Drag Bingo is Back!
Three organizations, one great cause. Join us for Drag Bingo, a benefit for San Gabriel Valley Pride, Pasadena Pride Center and PFLAG.
The money raised from this event is donated to the three organizations to help support their missions and goals.
Pasadena Pride Center needs your support to expand much-needed programs and services for the LGBTQ community in Pasadena and San Gabriel Valley. We often hear from our youth that they want a place to meet and socialize with other LGBTQ teens.
Other community needs we identified include mental health services, workshops specific to LGBT issues, anti-bullying campaigns, community outreach, and health & wellness resources.
Come out for a night of fun and a chance to win great prizes.  Light refreshments will be served.
Join us Saturday evening on October 4th, 2014. Contact us for more information or visit our Facebook page.
---
---
India's Transgender Law Big Win for Transgender Community, No Help to the Lesbian, Gay, Bisexual Community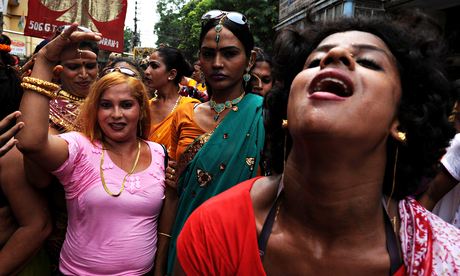 In a landmark judgment by India's supreme court on Tuesday, transgender people were granted the status of a "third gender" category. The court also directed the central and state governments to take the necessary steps to allow for equal status by ensuring adequate healthcare, education and employment as well as separate public toilets and numerous other safeguards against discrimination. Ash Kotak's article can be found in this month's The Guardian.
While the ruling is in line with the Indian constitution, the verdict does not apply to sexuality. In fact, it contradicts a judgment that was made in December, by a different bench of the supreme court, which then upheld the controversial section 377 of the Indian penal code criminalizing "sex against the order of nature," which is interpreted as gay sex. According to Section 377, a 153-year-old colonial-era law, a same-sex relationship is an "unnatural offence" and punishable by a 10-year jail term.>>Read More<<
---
Dine Out for Pride and Support the Pasadena Pride Center
Support the work of the Pasadena Pride Center by dining at your favorite restaurant! That's right! Restaurants owners have found a number of ways to give back to the community. We are looking for partnerships. If you are a restaurant owner or know of a local restaurant that would support our cause — advocating for empowerment and inclusion of all members of the LGBTQ community — please contact us today!